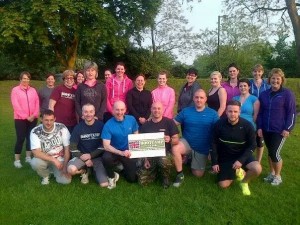 Thursday night had been marked in my diary for a week with two simple words 'Boot Camp'. This is an unlikely entry into my diary, it is more likely to read 'work' or 'bedtime story' or 'put the washing on'.  I am not a gifted sportsperson nor do I feel the need to punish my body with exercise for the chocolate brownie I enjoyed at lunchtime, however, I do go to Zumba (when the mood takes me) and I do feel I should try to keep fit so it was with muted tones that I 'piped up' to say I would give 'Boot Camp' a go.
Co-run by Matt Lyons, BootCamp.uk.com, holds Boot Camp sessions at Aylesford (meeting in the free village car park) on Tuesday and Thursdays at 19.30 and Saturdays at 07.30.  Matt is from a military background and after leaving the Royal Marines Matt turned his attention to the world of fitness.  I went along to see if the scary stereotype of 'Boot Camp' is true…and wondered how many times I would be shouted at.
The reality of Boot Camp is a well-structured, balanced work.  People are put into teams of four and you take turns on each type of exercise, you push each other and encourage as well.  On the week I attended I did press ups, sit ups, boxing, running, cardiovascular work as well as the warm up and stretch finish. Matt assures me every week is different so different muscle groups are worked and to simply give variety.
Matt is militant but the team are more than a match for him and amazingly the one thing that shone through for me was that Boot Camp has a very good sense of humour.  Through the grimacing exercise faces broke smiles and laughs at the expense of themselves because refreshingly, everyone at Boot Camp was in the same boat as me – trying to get fit. With the exception of Matt no one was super fit and ripped like corrugated iron as I had been dreading, no one saw me as a newbie to be dragged through the mud like a rag doll and I didn't have to peel any spuds either.
I did cost everyone 5 star jumps because I was caught standing with my hands on my hips – a cardinal sin at Boot Camp – and had already been caught once before so lost my one lifeline. It was hard work but in short manageable bursts of exercise (30 seconds of sit ups for example) and I did feel like I had instant results.  My body was definitely buzzing when I finished. The session lasts 1 hour and costs £10 (concessions for group/bulk bookings) and this is more expensive than any other exercise lesson I have been to, yet competitively priced if you use it as a gym substitute.
I came away feeling excited – I had found a form of exercise that didn't make me want to sob in frustration at my pathetic upper arm strength or my wheezing chest, for me the group mentality of the exercise worked a treat I would recommend you have a go! Look them up at www.bootcamp.uk.com Tel: 0800 910 1234 Twitter: @UkBootcamp Facebook: bootcamp.uk.com