'Beau Brummell – An Elegant Madness' by Emmy award-winning writer Ron Hutchinson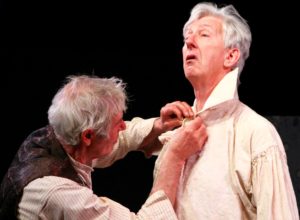 The Hazlitt Theatre, Earl Street, Maidstone is yet again offering us award winning theatre.
Dual Theatre and European Arts Company are bringing 'Beau Brummell – An Elegant Madness' to the Hazlitt, Exchange Studio, on Friday 22nd May at 7.30pm.
Well received by the press and starring Sean Brosnan (Dr Who, The Forsyte Saga) and Richard Latham (Casualty), this is not to be missed!
For over twenty years Beau Brummell was the epitome of style in 19th century England and is widely believed to be the first example of a 'celebrity'.  Being friends with the then Prince Regent meant his position in society was set and yet tragedy lie ahead when the friendship ended.
Exile, poverty and madness play their part and this production, written by Emmy Award winning writer Ron Hutchinson, follows his time in a French madhouse based in Calais.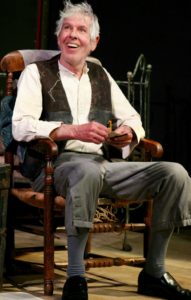 It is the winter of 1819 and with determination to relive his past glories,George Bryan Brummell (known as Beau) is convinced that once the Prince of Wales (now King George IV) hears of and sees his plight he will be restored to his former glory and position in court…
John O'Connor, Artistic Director of European Arts Company said: "The play is essentially a comedy but a dark one and is very moving at the end. I would describe it as Waiting for Godot meets Steptoe and Son! You'll laugh, you'll cry and discover a fascinating historical figure who feels surprisingly modern."
"Beau Brummell revolutionised fashion, style and attitude in the early 19th Century and Savile Row exists largely because of him. There is now a statue of him on Jermyn Street."
"He was a great influence on Oscar Wilde who became a later dandy and wit who met a similarly swift downfall and also died penniless in France. Those who enjoyed our productions of The Trials of Oscar Wilde and The Picture of Dorian Gray will love this."
"In our celebrity obsessed world, the play is even more relevant than it was 15 years ago but it also manages to examine questions of class, revolution, romanticism, style and decay. At times it has the grandiosity of King Lear and at others, the farce of Blackadder."
"Sean and Richard are brilliant actors with years of experience behind them. They were both involved in the original production with Peter Bowles 15 years ago at Theatre Royal Bath which transferred to the Haymarket Theatre in London."
'Sean Brosnan mesmerises as the Beau. A spectacle both ludicrous and touching due to Peter Craze's adroit direction' – Time Out
'Full of witty aphorisms. As Beau Brummell, Sean Brosnan is haughty, cool, racked with impotent rage and convincingly mad. His coarse-grained valet, played by Richard Latham, excites more sympathy.' – The Stage
Author: Ron Hutchinson, Producer: John O'Connor, Director: Peter Craze, Lighting Designer and CSM: Duncan Hands.
To buy tickets to the show click here or call 01622 758611.