Blog by Deborah Turner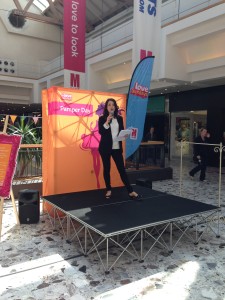 I was invited to participate in 'Style Wars' at The Mall Maidstone's Pamper Day on Sunday 26th May. It was a brilliant event with the Mall putting on 3 mini stage catwalks showcasing 3 key summer trends – 'Pretty In Pastels', 'Monochrome Makeover' and 'Summer Style' –  with other pamper activities including make up master classes by the fabulous 'Jersey Dolly' throughout the day
I had the best job ever…running around the shops selecting 3 separate outfits to define each of the 3 key trends and presenting them on stage on a local shopper.
We had 30 mins to select the outfit from stores within The Mall and £50 to spend which had to cover the whole outfit.
The first outfit was the Pretty In Pastels trend, where our lovely shopper had a friend's wedding to attend. This season pastel trend has seen more of a colour injection with candy colours being really strong, aqua, coral and deep cream. I made a dash to 'New Look' and picked up a beautiful soft coral chiffon dress, with pink suede court shoes and a cute cross body cream bag with lace detail – and all for the bargain price of £49.99.
The next outfit was for the Monochrome Makeover and this time our shopper had an interview to attend. I headed for 'Select' and was not disappointed. I grabbed a black and white spot skater style sleeveless dress with a black shrug to keep arms covered for the interview. They had a fabulous monochrome tote bag and black flats with white bow on the front to complete the look! Amazing!!
Lastly we did Summer Style where I managed to nail the trend in BHS. I had a Miss. Selfridge floral print mini skirt with bright coral lace cropped t-shirt and coral flat sandals with a little bling to match the  glitter cuff I was able to afford all within my £50 allowance, wow!
Our shoppers went away happy, each winning their £50 outfit and having had a fantastic day. The shopping was fast and furious but most of all fun.