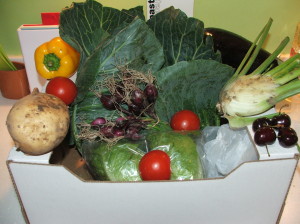 Kent Veg Box were kind enough to drop off a box of their freshest, local produce to my doorstep last week and since then I have been working my way through its bounteous contents. I am not a chef, in fact calling me a cook is a little bit of a stretch – I am a working mum with time restraints and a fairly inactive culinary imagination so I knew this would either be a challenge too far or simple inspiration for my meal planner.
I did think that the box would contain just staple foods and a little extra thrown in but the box was a complete surprise because along with the potatoes I simply couldn't live without, was a range of veg fit for the Queen…so I dived right in!
My box (which would have cost me £10) contained: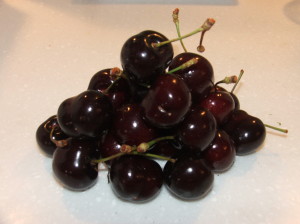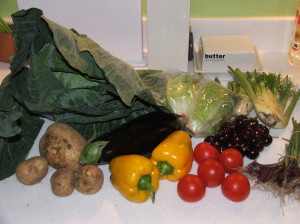 X1 bag of cherries
X5 tomatoes
X2 baby gem lettuces
X2 yellow peppers
X2 fennel
X5 potatoes
X1 large cabbage
X1 aubergine
X1 bunch of red spring onions
I have never been so happy to see earth on my potatoes, fennel and onions and the shine on the peppers and cherries was not from a wax coating applied to some processed fruit and veg but from nature.  It was obviously fresh and picked with care.  The box itself was a real mixture and I will be honest and say I was a little dubious of the aubergine as I was not sure I would like it – but that is one of the wonderful things about buying a veg box, it brings new things to your dinner plate as well as old favourites.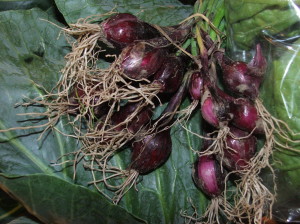 The veg lasted me most of the week and I made the following meals:
X 1 potato gratin with layers of aubergine and fennel mashed potato
–          Using potatoes, fennel and aubergine as well as the remaining onion added cream and seasoning.
X 2 portions of ratatouille
–          Using onions, tomatoes and peppers.
X 4 salads (two for me and two for my daughter.  I added tuna to mine and cheese for the little one)
–          I used the lettuce, tomatoes, peppers and onions
X 1 picnic cherry dip
–          Using the cherries of course! Perfect for picnic weather
X 3 portions of salad for sandwiches
X 6 portions of cabbage to accompany meals (two I froze to make a soup from at a later date)
X 1 veg stir-fry meal for four people
–          At the end of the week this was a Godsend – I chopped up all the remaining veg and served with noodles. I usually cook this meal but due to the veg box there was much more variety than usual.
I did supplement the box – buying broccoli and a courgette and the ironic thing was that shopping alone cost me over £1.75 when the whole veg box was only £10!
I was keen to check if Kent Veg Box was good value for me and so I looked back at my past two weeks vegetable shopping bill.  I had spent £9 and £11.20 respectively at the supermarket.  This tells me Kent Veg Box are competitive even if they can not beat a huge supermarket chain.  For the difference in price, I have enjoyed fresher fair-trade food grown in Kent.  I haven't thrown away copious amounts of cellophane all veg seem to be wrapped in at the supermarkets and the vegetables definitely tasted fresher and lasted longer because none of the food was picked more than two days before.
I was pleased with the veg box and although my menu choices are not the most adventurous, having a veg box has inspired me to embrace seasonal, local vegetables fresh from the ground.  I am a convert.
Why not try it yourself?  You get 75% discount for being an Inside Maidstone Magazine reader – follow the link http://www.kentvegbox.com/pages/im
For more info see their website http://www.kentvegbox.com/