One Small Step for an Entrepreneur, One Giant Leap for Success in Maidstone.
Starting a business can be daunting – especially in a time of recession but when an idea is good it's worth all the hard work.
Eighteen months ago entrepreneur Emma Whiitall and her team set up Stepping Stone Studios – a versatile venue giving Maidstone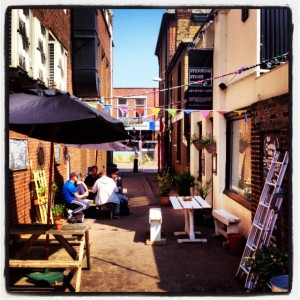 a space that really has evolved from community feedback. It is ventures like Stepping Stone Studios that make Maidstone great and really embrace all the different demands of our community. Emma explains: "Stepping Stone Studios has been up and running for over a year and half, and has taken a unique journey since April 2012 to today. Initially set up as a studio and art gallery, and fully volunteer staffed, the studio has developed (with the support of the community) into a restaurant and venue fit to host a variety of alternative events."
The Studios were set up in April 2012 with help from KCC's Small Community Capital Fund and the new studios website tells us 'The studio was started by a group of innocent early-20- somethings, with a love for culture in our hearts and time on our hands. It took a bunch of individually skilled and enthusiastic contributors volunteering and plugging in to the idea to make it happen. We restored a 2 storey building from a hairdressers, into a studio, gallery and cafe, and opened doors to our first weekly programmes with the jam night and life drawing class." This is a surprise within itself – a jam night and life drawing class side by side; two polar opposites of events but that does sum up what Stepping Stone Studios is about.
Since opening the Studios have hosted and organised film nights, jam nights, a range of art workshops for kids and adults, art fairs, poetry, comedy, music gigs of all sorts, charity exhibitions, launches and fundraisers for small organisations and has now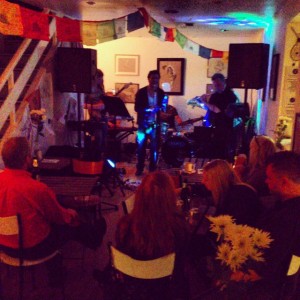 branched into food and drink, opening the Alley Café. There is a real community feel to the studios and Alley Café and they have not taken the easy route when it comes to offering refreshment – no relying on mass produced fast food for their hungry gig attendees – instead they sell locally sourced food and drink, including real ales and Kentish ciders. On the menu you will find heart-warming dishes like home-made pies, pizza and gourmet burgers, brunch bites, soup of the week and House favourites to whet the appetite and give you a culinary hug this winter and the prices are good starting from just £3.50. The bar is just as welcoming with Biddenden Bushes cider, Curious Brew Beer and Old Dairy Red Top raising a few eyebrows for those who want a good old fashioned pub experience with a contemporary twist.
Stepping Stone Studios is a success story for Maidstone shows what a combined community effort can achieve. Their  website urges you to get in touch if you want to beinvolved so take a look on their website
www.steppingstonestudios.co.uk.