Paul Andrews – Straight Talking Entrepreneur, Business Man and Investor. Also a decent guy.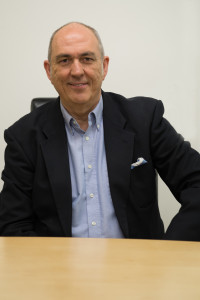 When you meet Paul Andrews he does not strike you as an introvert, but he assures me that he is. Paul is a confident businessman brimming over with enthusiasm for his current and future projects.  He is a high flyer in the business world but Paul doesn't like being put on a pedestal. "Anyone can do what I do" he tells me, "I'm nothing special".
His list of entrepreneurial 'titles' (for want of a better word) would indicate otherwise. Paul is the CEO of 'JobsInKent.com', owner of 'Fruitbowlmedia.com', 'Fruitworks' and '10×10 Labs'; the list goes on with 'B2B South East' and Director of 'Channel Radio' as well as running B2B Exhibitions and being a motivational speaker and business investor – so by saying he is nothing special some may accuse him of projecting a false modesty, but his modesty is genuine. Unlike so many other successful business people, Paul has not taken the power trip success and money bring. He is as down to earth as they come.
I met Paul at his JobsInKent offices – which were in the middle of moving to the premises next door – and the atmosphere was relaxed and professional. His office walls are covered with family photos and pictures of racing cars and his desk is clutter-free, with his mug of coffee taking centre stage. Somehow I expected his office to have a football table on one side and a bubble gum machine on the wall because every time I have met him I have been overwhelmed by his childlike enthusiasm for whatever topic he is talking about as if he is a big kid trapped inside an adult body.
His working week is carved up into meetings, networking and simply seeking opportunities wherever they may be. Tuesday is the only day of the week when he has a routine. He devotes Tuesdays to his radio station 'Channel Radio' where he co-presents 'The Business Bunker Radio Show' with Jules Serkin. Paul admits that the radio station does cost a lot of money but it was a challenge he could not resist: "I did some research and saw there was an opportunity – it's really hard work, takes up a lot of my time and costs a lot of money but it's good fun – apart from the calls at 2 o'clock in the morning if something goes wrong!"
Paul was asked by someone recently 'What do you actually do?' and Paul answered 'Nothing!' He finds it hard to put into words the work he does: "I don't actually do anything – what I tend to do is meet lots of people, talk to lots of people and do speeches. Occasionally a bit of sales. Most of the real work happens in the evening, stuff like putting jobs on the job board and sorting out accounts and looking at numbers – all happens in the evening.
"What is the key to success?" is not a question I ask but with Paul I think it is obvious – he is a people person through and through and an inquisitive one at that. Success seems to come to Paul through his own motivation in life. Paul told me: "What motivates me is very clear. I have certain 'drivers' that I've always had, I'm insatiably curious, I like to find out stuff and I also love to disrupt. What I mean by that is I like to see things and reinvent them in a way that suits me. I quite often look at things and think 'I could do that in a different way', I have an ability to see things with fresh eyes, especially things that I don't know anything about! Also change seems to be the hardest thing for most people to master and I think I'm pretty good at handling change."
As a school boy Paul says he was very quiet and introvert but always had an interest in history – not your 'Kings and Queens' instead he was, and still is, fascinated by the path of history – what happened next and why? What would happen if there had been a slight change in history, what tangent would life have taken then?  This links into Paul's ability to look at situations differently, spinning them towards the path he wants them to follow. Paul's inquisitive and thirsty mind became an asset in the world of work.
He started work at 14 in the machine room of a paper mill.  At work Paul was given a piece of advice which he still uses today, he was told "First of all learn your own job and then learn someone else's" so that's just what Paul did. He badgered the dryer man to tell him about his job and was soon able to understand what the job entailed. His opportunity to step up came when both dryer men couldn't work which meant the paper machines needed to be turned off and everyone laid off for 3 weeks. Paul grabbed the opportunity and his 16 year old voice rang out saying "You only need a dryer man – I can do it!" After a short period of disbelief from the management, Paul proved he could in fact step into the shoes of a dryer man and so got a job as a dryer man there and then, and at 16½ they made him the nightshift foreman.
Throughout our interview there was a thread running through each life story Paul tells me and that thread was 'opportunity'. Paul is a rare breed – a person that sees an opportunity and grabs it with both hands, turns it around to his own ends and then moves on to the next opportunity almost quicker than you can type the word 'opportunity'.
His way of working has created success after success for Paul and he was the winner of Kent Invicta Chamber New Business of the Year in 2006 followed by Kent Invicta Chamber Entrepreneur of Year in 2009/10.
That has not always been the case though and since Paul has been successful he has been known to miss the odd chance to invest in a good idea.  Paul kicks himself for not stumping up the money for an idea that to him seemed like it would never take off: "Some 20 years ago I was given the opportunity to invest in a company that wanted £100,000.  They came to me saying they had a technology company who had come to them looking for £100,000 for 10% of the business and they had the idea to make it easier to find your way in a car. It was going to cost £100,000 per unit so I said 'Don't be ridiculous you can buy a map for £5.45' so I turned down the opportunity to own 10% of Tom Tom" and Paul says, tongue in cheek, "It's still a ridiculous idea!"
It was an opportunity missed but Paul isn't fazed: "As an investor over the years you get pitched thousands of ideas. As an entrepreneur failure is necessary. You can't succeed if you don't fail. A fear of failure is what holds people back. What I have learned from all the investments I've made is that it's not the business idea, it's the people behind it. You can have the greatest idea in the world but if you don't have the right people behind it will fail – but you can have the worst idea in the world and if you have passionate committed people they will find a way to make it work so now I am much more concerned with the people I am investing in."
Paul hasn't always been his own boss. His CV is pretty extensive and includes working for Citibank, Goldman Sachs, Morgan Grenfell Merchant Bank and Church International, holding impressive roles in each. From these companies Paul soaked up experience like a sponge and although obviously thrived in a corporate atmosphere he never sat comfortably within it. His entrepreneurial spirit could not fit in he likes to be involved in the grass roots of business and to see a business build.
Today every business venture and company Paul is involved in has a focus within Kent and he is heavily involved in schemes to help new local businesses, from business set up and finance through to mentorship. "My passion is small business. I absolutely adore small businesses. What I like is the closeness to the customer and the workforce and the family community feel to it."
In Canterbury Paul has a company called 'Fruitworks' which provides offices for hot desking and creative community workspaces and also runs '10×10 Labs', a business start-up and financing company. He loves to help others in business and happily gives his advice and strongly believes in good communication between competitors as well "I regularly have lunch with my competitors!" and Paul's lack of barriers shines through in business "I will ask anyone their opinion on something, no matter who they are or what job they are in". There is no doubt about it, Paul is astute.
Unlike many others Paul doesn't 'do' goals, 'S.M.A.R.T' objectives within appraisals are non-existent and as for a 5 year plan, well he wrinkles his nose in response to the suggestion: "I don't work like that; I have a general purpose view of roughly where I would like to end up and I couldn't care less how I get there! To sail a boat somewhere you do not point it in the direction you want to go and get there, you have to tack and jibe, go with the wind, move, change. When people have an all-encompassing goal, they miss all the opportunities around it."
When Paul was employed within the corporate world he had an appraisal which didn't go well.  Paul said: "I walked into the office and we sat down with the appraisal form and was asked 'What are your weaknesses?' so I told him: 'I can't speak Russian and I can't fly a rocket'." The answers didn't go down well but Paul explains that it's pointless to try and fix people's weaknesses "Most people have weaknesses for reasons other than their inability to do something. If people are not interested in something they won't take the time to learn. If I spent all of my time trying to learn about things I'm not interested in I wouldn't be focusing on my strengths."
Paul is certainly not corporate in the way he runs his businesses. "My approach to management is not to fix people's weaknesses but to try to focus on the things they do well and to make their job encompass as much of their strengths and passion as possible and sneak in some of the stuff they don't like on the end! As a manager I'm egalitarian and inclusive – I very, very rarely pull rank and I ask anyone at any level in my organisation for advice on things I think they can help with or just to know what they think. I like to understand where people are coming from."
Paul has been in business all his life dealing in so many different types of business it makes my head spin, but he doesn't have that big life goal many others want. Some people work to get a house, car or whatever else they desire but Paul has a different mentality, he doesn't have a final objective quite simple because as Paul puts it "There is no such thing as an end game – there is always something else you will want to do".
So what is the future? Retirement is an option and Paul seems to entertain the notion for a few seconds. "Sometimes I think I'd like to retire." he says in a matter-of-fact attitude before laughing and adding "But then if I really did want to, I would – so that's not true!" Whatever the next venture (and Paul has hinted at a few irons in the fire… manufacturing?) he will be investing in the people of Kent.
"I like being a part of the community in Kent – the real community, the people. I like the fact that a lot of people will ask for advice, ask for my help and include me in things that they are doing. I'm not remotely interested in the establishment, I like dealing with real, ordinary people every day. That gives me enormous satisfaction – the feeling that I can contribute to other people's potentiality. I'm not heading in any particular direction, I love to meander and see where things take me."