UCA Maidstone's Big Screen Dreams
By Helen Shewry.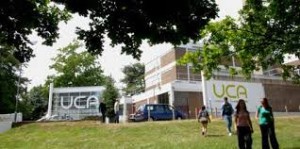 The University for the Creative Arts, UCA, spills its creativity out across five           dedicated sites with UCA Maidstone campus at Oakwood Park.  The students           have the added benefit of being on the doorstep of Maidstone Studios which is         available for their use.
The UCA itself is specialist and is dedicated to providing its students with                    industry-standard facilities along with galleries in which to exhibit and experts        to work alongside.  Courses range from pre-degree to post graduate and research; subjects include: Animation, Fine Art, Digital and Media, Learning and Teaching – the choice is vast.  The quality of the University is evident, with a list of celebrated alumni such as: Tracy Emin, Karen Millen, Tim Searle, Zandra Rhodes and Oscar winning animators, Michael Dudok de Wit and Suzie Templeton.
The high standards of its students don't go unnoticed either.  In January 2013, Animation graduate Chris Butler was nominated for an Academy Award for his film ParaNorman and Alice Howard-Graham won the Bradford Textiles Design competition which presented her with the opportunity to fly to France and show her collection to designers at Hermes.
The talent's not subsiding – three films from the UCA were selected for Screentest '14.  Two of these films were created by three students from the Maidstone campus.  Screentest is the UK's national student film festival – the longest running of its kind and it celebrated its 10th anniversary this year.  The three day festival in March was a 'mission to exhibit, educate and inspire' (screentestfest.org.uk).
Poppy by Lauren Woodfall and Lauren Howard, Howl by Jamie Sims and Nina Kastner and Rooms by Natalie Charles were selected for the festival, which ran at the South Bank Student Centre from March 21-23.
Poppy, by Woodfall and Howard, who both graduated with a BA (Hons) in TV Production at UCA Maidstone in 2013, 'is a short experimental film exploring the intimacy of a young couple, caught in the grasp of an insatiable love for one another and their own intoxicating drug.' (UCA).
Poppy runs for 15 minutes and 42 seconds capturing personal intimacies of a couple. There are music and sounds of the elements throughout which reflect the relationship and the titles of the acts: Air, Water and Fire respectively; each act moves deeper into the relationship.  The final act is shot in black and white with fragmented snapshots, blurred vision and sped up movements all mirroring the psychological state of the individuals.  Although the film has no spoken words; we do occasionally see words mouthed such as 'love' and 'forever'.
The way the film is shot gives it a voyeuristic quality which evokes in the viewer both a fascination and awkwardness as we begin to feel as if we shouldn't really be there.  The sweet familiarity of the first few minutes with tender touches, glances and a playful desire for each other in the opening scenes really captures the first moments of love which could envelop any of us.  This draws us in and lures out our sentimental, reflective side.  However, the film darkens as their desire for one another intensifies.  Because we no longer feel like a passive observer the film now becomes difficult to watch; we've imbued ourselves in the couple and their relationship which makes us uncomfortable.  The symbolic poppy and its natural opiate tendencies mirror ones heady state of love and passion and displays how, if consumed, it can have the propensity to lead the 'user' on a downward spiral.  Other references to drugs and drug taking reflect: need, want, control, violence, disgust and that all-encompassing desire.  We uneasily witness the degeneration of a relationship.
The film is beautiful both in its dark and light elements and one can see why it was selected for the Screentest Festival and how they've achieved their first class honours degrees.
The second film, Rooms by Natalie, who studied Illustration at UCA Maidstone, is an animated film exploring what it was like for immigrants arriving in London around the 1960s.  It focuses on a converted townhouse in North London which was rented to immigrants having difficulty finding housing.
Completely different both in style and content, Rooms is even shorter running at just 3 minutes and 19 seconds.  Don't condemn it for its shortness as it packs a punch with a delicate subtlety.  Natalie's style has a child-like quality, both in her films sketchy pencil nature and in her use of stop-frame animation, which has a jerky/flat quality.   Although it looks and feels child-like this effect has been intentionally created to provide some sense of innocence and we only have to look at the details and the subject matter to see it is far from childish. Natalie's film has no speaking in it, but we do hear sporadic sounds of breathing, ships horns and kettles boiling along with other evocative noises capturing place and emotion.  Natalie also uses some real objects such as dominoes and cups and includes 'letters' and 'photos' – which are not real but drawn.
Her delicate handling of the animation and the topic of immigration is to be admired.  The combination of effects and style provides us with a naïveté which mirrors the unsuspecting immigrants of the 60's.
The two examples of contemporary works display how issues can be explored and how, by using different techniques, you can create varied effects.  It's satisfying to see Maidstone producing thought provoking, technically adept and inspirational work.  It's beneficial for all to see students achieving and being rewarded for their dedication and graft.
With films from UCA winning the top prize at the previous two awards, this year's entrants were no different.  Howl won Best Thriller/Horror and Best Screenplay and also received a nomination for Best Film.  Unfortunately Poppy and Rooms didn't pick up any awards.  However, their nominations for Screentest are a fantastic steppingstone for their future and careers.

Click here http://www.youtube.com/watch?v=DX8jF9eIpIE to view Poppy by Lauren Woodfall and Lauren Howard.
Click herehttp://www.youtube.com/watch?v=a77cUH4o_vA&feature=youtube_gdata_player  to view Rooms by Natalie Charles.