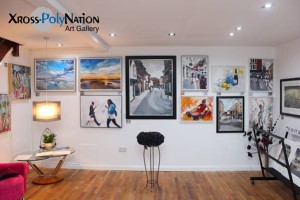 Last Thursday the newest art gallery in Maidstone opened it's doors for their official launch.  Xross-PolyNation is based in Starnes Court and welcomes the public to look at art with a voice.  Xross-PolyNation has been set up to give art another avenue and their opening exhibition is 'Black History Month on the square.'
The gallery is set out in a series of rooms over two levels and includes a cafe on the premises too.  It was full as I went from room to room.  With guest speakers and a sumptuous buffet was lined up for the evening Xross-PolyNation was the place to be.
The gallery has embraced local and global artists in their gallery space.  I was shown around by the Gallery Manager, Charlotte Johnson, and was struck by the diversity of the art on display as well as the hugely welcoming and lively atmosphere being embraced which some may not associate with an art gallery.
Lead artist Daniel Gbenga Orimoloye's work strikes you as you enter the gallery and draws you in.  His messages from his work are clear and based on humanity.  When I spoke to Daniel he was modest about being chosen as the lead artist in the exhibition.  He explained: "It is exciting and a new experience for me.  I tend to do solo exhibitions so to be part of the gallery is a chance to broaden ones scope."
The Cinque Port Scribes were proud to be included too.  I spoke to Els Van Den Steen who told me a little of their history.  Having been a calligraphy group for over 20 years they have over 60 members ranging from novices to expert calligraphers but being part of Xross-PolyNation was evidently a new experience for them.  Els Van Den Steen told me: "It's nice to be involved in a bigger scene and unusual to see calligraphy in a gallery so we are thrilled to be included."
As well as calligraphy another piece of art that caught my eye was in the reception gallery – what looked like an extremely plush stall, black as coal but brightly reflecting the light.  It was entitled 'Black Coral'.  Like a magpie I was drawn to it only to find this artwork was made entirely from recycled video tape.  The intricacy was staggering and I spoke to the artist, Sue Pritchard, who also had a large piece of textile art on display in the gallery.  Sue lives locally and uses recycled material within her work.  She told me about creating her exhibited art work 'Back Coral' from recycled video tape: "I played with it and played with it until I could turn it into something beautiful."
Sue went on to say: "People always ask how long it takes to create my artwork but I really don't know…many, many hours…I use all sorts of material in my artwork, things destined for landfill and petrochemical based products.  I want people to be aware of the damage we do with our waste materials."
Cas Holmes is another local artist who was at the gallery opening and a guest speaker on the night.  Her latest book 'Stitch Stories: Personal Places, Spaces and Traces in Textile Art' has just been published and her international reach grows continually.  The other guests speaker on the night were Miles Allen and Christine Locke.  I had the pleasure of speaking with Christine, from Diversity House – an organisation working with the communities of Kent on integration and cohesion to help develop communities.  Christine said: "People need to be culturally competant to live in a global village."
Xross-PolyNation's ethos is to promote cross-cultural exchange though art exhibitions, enabling a richer communal understanding and strengthening ties between diverse regions of the world. They strive to encourage and promote upcoming artists on a global platform and to help showcase their roles in society through direct engagement with original works of Art. Xross-PolyNation is also partnered with a variety of high profile Art societies from UK Youth, Diversity House, Royal Art Schools and the University for the Creative Arts.
It is clear that this gallery sends out diverse, important and relevant messages to the public giving art a voice and artists as channel to express their truths.  'Black History Month on the square.' exhibition runs until 30th October.
The artists exhibiting currently are:-
Nick Tidnam RBA (Royal British Artist) NEAC, James Horton RBA, Baljit Chadha, Mike Fryer, Gustavo Salan, Shailesh Patel, Sanatan Saha, Amritam Das, Radha Binod Sharma, Norman Orrs, Kelly Woolard, Dirty Hans, Richard Davies, Daniel Gbenga Orimoloye, Kaidy Lewis, Cas Holmes, Janne Bergstrom, Charlotte Johnson, Lizy Bending, Laura Greenway, Naomi Symmonds, Matthew Fox, Richard Want, David Hover, Janet Jackson, Amanda Hopkins, Sheliagh Dyson, Rowell Tyson ARCA RBA, Ali Edaltapour, Graham Clarke, Sue Batt, Jayant Gajeram Doffy Lehner, Anthony Eyton RA, Sue Pritchard, Paul Chave, Brian Lewis, Wendy Smith, Victoria Wainwright, Dr. Alka Raguvanshi, Sudhir Deshpande, Goldie, Jayne Gooding, Frank A.Oakley, Geoff (Spectator Magazine), Vik Silver, Sheliagh Dyson, Annie McAlister-Dilks, Sheila Parish and Cinque Ports Scribes; Meg Chapman, Jan Turner, Els VanDenSteen and Steve Eade.
Xross-PolyNation's next exhibition is with the Nigerian Arts Society, opening on 2nd November.