Julian Garner – As Unique as You Are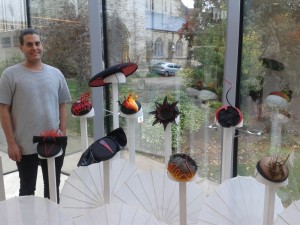 After months of anticipation the Julian Garner exhibition has opened at the Maidstone Museum's Glass Room.  Head wear designer Chris Garner is behind the brand and has created the Ki Mi collection for SS/AW 2016 inspired by the art of Japanese Ikebana.  The inspiration to base his collection on Ikebana struck Chris as he walked down Sandling Road in Maidstone.  He saw a bush which he remembered growing in his childhood home in Zimbabwe – the sight stirred a memory of his mother, Tish Garner, creating beautiful Ikebana floral displays and at that moment the 2016 Julian Garner collection was born.
Chris lives in Maidstone and millinery is his passion.  Having given up his full time employment to start 'Julian Garner' his label is growing and Chris wants his head wear to appeal to as many people as possible because he does not like stereotypes – the brand revolves around the concept of 'As Unique As You Are'.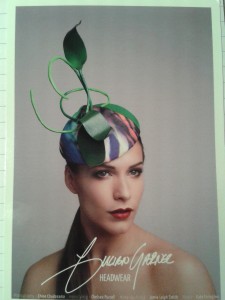 Chris hand makes every hat and in keeping with this theme, Chris has ensured the exhibitions display umbrellas and hat stands are all hand made too.  Working on his collection since February means that he knows each hat well but has stopped himself from naming them as you see in some millinery collections "…they are all unique so naming them and giving them a label felt wrong.  I refer to them by their descriptions" Chris told me.
This is Chris' first exhibition and he seemed excited and nervous in equal measures: "I've learned to paddle and swim in my fear!" he tells me and as a largely self taught professional milliner, he explained that the main challenges with the collection was simply how to manipulate materials – twist feathers for example – and ensure the correct mix of colour combinations.  The results are beautiful.  S/S colours are greens, blues, pinks and browns followed by red, orange and black hues in the A/W collection.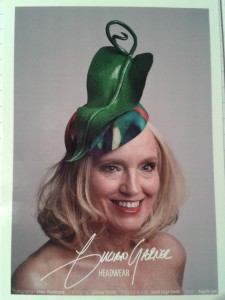 The Glass Room is the perfect place for the exhibition and Chris felt it was important the exhibition was held there because of the connection to the outside world the glass room creates – just like Ikebana, Chris' head wear is inspired by the natural world.
The Ki Mi collection runs until 24th October. Contact Chris @TheJulianGarner on Twitter or Instagram or e-mail him on cjuliang@yahoo.co.uk
To read more about how Chris started out click here