Buy 7 year old Alice's 'I've Had the Jab!' Badge for Charity.
When 7-year-old Alice heard both sets of her grandparents were receiving the Covid-19 Vaccination, she was thrilled and wanted to send them something to celebrate.  So, her design for this fundraising charity badge materialised.  As Alice heard of more people receiving the vaccinations, she realised this was an opportunity to raise some money for two causes close to her heart – the school she attends (Palace Wood Primary) and her superheroes – the NHS.  The badges sell for £2.50 and you can buy a badge to support her fundraising efforts here. (UK postage only – sorry)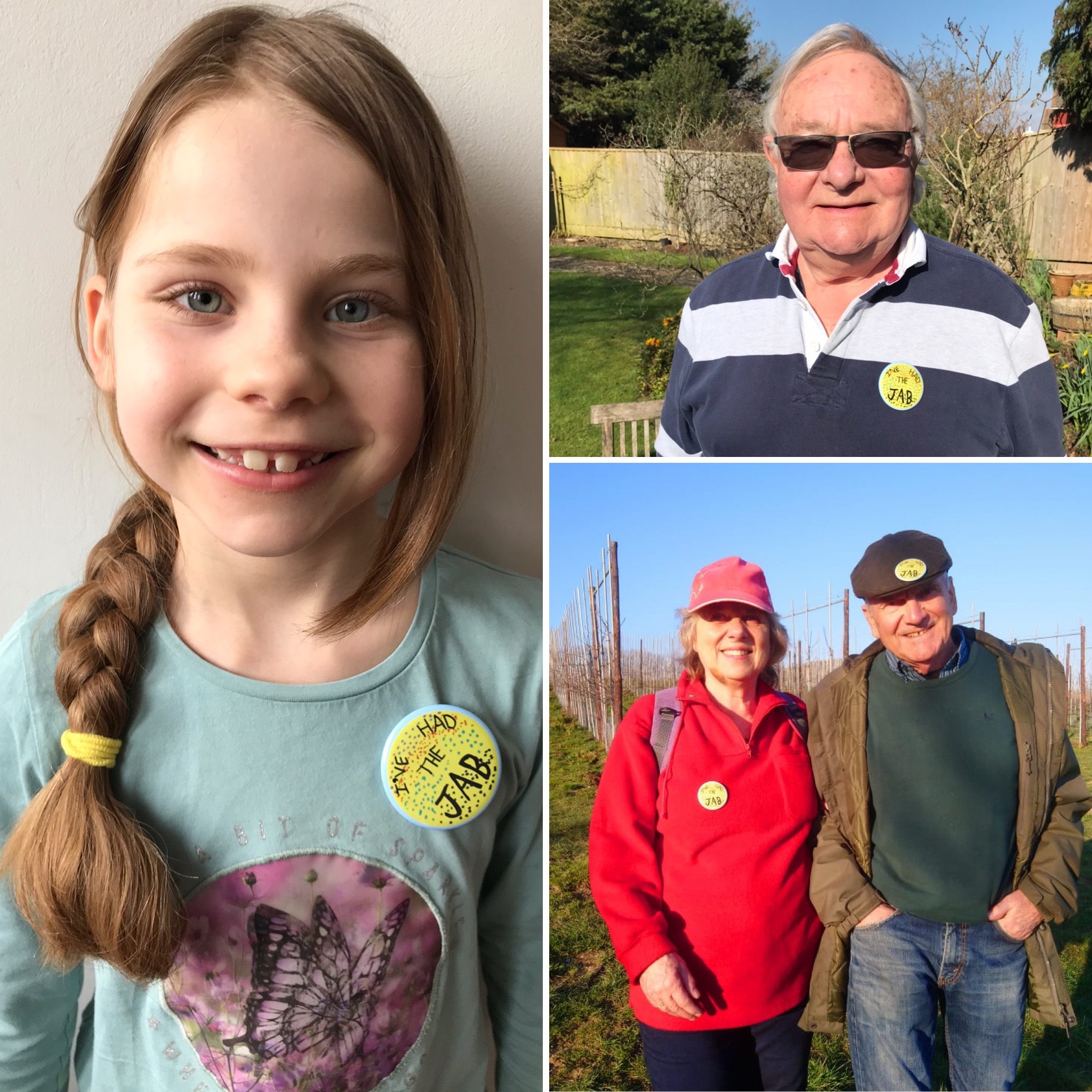 Alice hopes that people will buy her badges to send to their grandparents and relatives that have had the jab, so they have a 'badge of happiness' to wear when they are finally allowed to meet up with others.
Alice said: "I wanted something that people who have had the jab could wear when they were out and about. I hoped it could stop people feeling so nervous too – for people to feel more confident to go out – and to bring people happiness. I want to help my school and the NHS because I really like my school and with more money for the NHS maybe the lockdown will be over quicker."
Coming up with the slogan 'I've Had the Jab' herself, Alice then drew several different designs before she hit on the spotty yellow design, she was happy with.
Alice said: "I enjoyed drawing lots of different designs. It was fun investigating which designs were best to read from a distance. I wanted something bright and cheerful that would stand out."
Using this idea as part of her 'home learning', Alice's parents, David and Liz, tapped into Alice's enthusiasm to teach her the basic principles of business and encouraged Alice to think the project through clearly from design through to send out – how much will it cost? Where will she get the initial cash injection needed from? When can the badges be delivered? How much should she sell them for? After calling lots of different badge making companies for the best price, Alice asked her Grandparents and Auntie to be investors to get the ball rolling and worked out the selling price of £2.50 each.
She then e-mailed her Headmaster, Mr. Chatley, to ask for his support in selling the badges and when he replied positively, Alice hit the button to buy the badges. Parents of Palace Wood Primary School pupils can buy the badges through their Parentmail, everyone can buy the badge through the PayPal buttons on this page.
Alice's Mother, Liz, said: "We know Palace Wood School, along with all other schools during this pandemic, have not had the opportunities to fundraise as they normally would which is a big problem for the education system, so Alice wanted to help and I'm sure we can all agree the NHS is a worthy cause. All the profits raised will be split 50/50 between Palace Wood School and NHS.
"Ideally Alice wanted to sell biodegradable badges, but the cost was just too great. Hopefully, people will keep these as mementos for years to come. If there are any companies out there that can help with supplying inexpensive biodegradable badges or want to sponsor the postage cost so we can ensure even more money goes to Palace Wood School and NHS, then please get in touch!"
Cost breakdown per badge – Only available for UK Postage (sorry!)
£0.25 production
£0.96 Second class post
£0.05 envelope
£0.10 packaging (padding)
£0.37 PayPal selling charge.
These costs are for one customer buying one badge from www.maidstone-magazine.co.uk. The costs drops considerably if multiple badges are ordered.