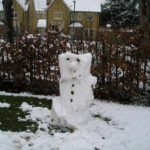 When snow does arrive it's best to embrace it and be prepared!  If snow falls on a weekend many can feel at ease without having to worry about the school and work run so let's hope Mother Nature is kind!  Either way there will be an opportunity for some fun so make sure you are ready!
Places to Sled in Maidstone.
Any of the Maidstone parks are perfect but if you want a park with a view I recommend White Horse Wood Country Park.  Cobtree Manor Park is great because of the soft sloping walks and the fact that the roads will probably be a little more accessible than some others due to it's close proximity to the A229 and M20.
Church fields are always a good idea (as long as these are public rights of way!) because usually churches are built on higher ground and the numerous surrounding villages of Maidstone are perfect.
Snow Essentials
1. Sled/Toboggan
Whether you go sledding or tobogganing  is doesn't matter as long as you have a fun and safe way to experience the thrill of the ride!
2. Water proof Gloves, Scarf and Hat.
Wrap up warm for snowman making – this applies to you and the kids!  If there is one thing that stops snowmen being finished it's when the wet and cold makes your hands numb!  Make sure you have the right gear to ensure you can get the job done!
3. Children's all in one waterproofs.
Essential to keep them warm and dry in the snow.  Sure they look like the Michelin Man but they can enjoy the cold weather for longer and they can create snow angels to their hearts content.
4.  Camera
Ensure you capture the snow on camera – who knows when it will come again! You also never know when you may catch that 'Youv'e Been Framed' moment.
5. Carrots
A snowman is incomplete without a carrot nose!
6. Hot Chocolate
A welcome drink after time in the snow and perfect for thermos flasks when tobogganing!
Enjoy the snow and e-mail me your pictures!  [email protected]