Roux Barb – When Jules Meet Michel.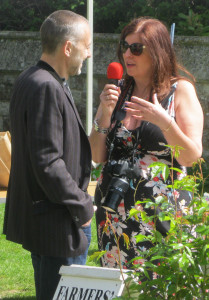 SCOFF & QUAFF column by Jules Serkin.
TV chef Michel Roux Jr., famous for appearances on BBC Masterchef but better known among foodies as the latest Roux family protégé, brought a touch of glamour to a Kent farmers market the other week.
Just occasionally I get to rub shoulders with the TV chefs through my Scoff & Quaff internet radio show and I have to say many of the can leave you feeling like an popped soufflé, showing little real connection to the food industry beyond the brands that sponsor them.
So it was a real treat to chat with Michel Roux Jr., famous for appearances on BBC Masterchef and other programs. He traveled to Kent in support of the local Shipbourne farmers market where he grew up. Coming from the French dynasty of Roux chefs (including his uncle by the same name), I expected him to be a touch sniffy. But he was down to earth – quite literally – as we discussed locally grown vegetables and the importance of the local markets for the community. "We're always complaining about not knowing our neighbours and this is a great way to keep in touch with people," he said before walking around the market.
The biggest celeb among the produce was rhubarb, making a welcome springtime  return. Here's a little Ode to Rhubarb and some top tips from the lovely Riverford Sisters, Liz & Caroline Asteraki:
Rhubarb
Now is the time to rekindle an affection for rhubarb. Despite being widely used in desserts, rhubarb is actually a vegetable. It was popular through most of the 1900's but suffered along with many other of Britain's homegrown, traditional vegetables as supermarkets began to sell out-of-season fruit from around the world.
Rhubarb is easy to grow in Britain, as it enjoys cool climates and suffers very few pests. But it isn't just a convenient crop for farmers to grow; it also packs a flavoursome punch at the table.
If you want traditional, seasonal produce you can't beat rhubarb at this time of year, try a simple crumble served with plenty of custard – and later in the season, throw in a few handfuls of strawberries too. Or make the most of its vibrant colour by swirling stewed rhubarb through creamy yoghurt for a super-quick dessert.
Rhubarb's sharpness also works beautifully with meat and fish, so there's no need to confine it to pudding. It stores well and will keep in the fridge for a week or more.
Rhubarb and Cardamom Fool
 by Jane Baxter, Riverford Field Kitchen recipe from the Riverford Farm Cook Book
serves 6
ingredients:
450g rhubarb, coarsely chopped
150g caster sugar
juice and grated zest of 1 orange
3 cardamom pods
100ml double cream
100ml yoghurt
Mix the rhubarb, sugar and orange juice and zest together and place in an ovenproof dish. Add the cardamom pods. Cover and bake in an oven preheated to 190°C/Gas Mark 5 for 30-45 minutes, until the rhubarb is completely soft. Remove from the oven and leave to cool completely. Take out the cardamom pods and purée the fruit.
Whip the cream with the yoghurt until it just holds its shape. Carefully fold the purée into the cream so you have a ripple effect, then transfer the mixture to serving glasses. Chill before serving.
Rhubarb & Ginger Cake
Preparation Time: 15 minutes
Cooking Time: 30-60 minutes
Serves: 8
Ingredients
100g (4oz) wholewheat flour
100g (4oz) unbleached white flour
1/2 tsp bicarbonate of soda
2 tsp ground ginger
110g (4oz) butter
110g (40z) muscovado sugar
60ml (2floz) black treacle/molasses
2 tbsp milk
2 eggs
55g (2oz) crystallised ginger
340g (12oz) chopped rhubarb
Instructions
The stem of a large perennial plant thought to be native to Tibet, rhubarb is technically a vegetable, though it is used as a fruit. The leaves are said to be poisonous. Rhubarb is delicious in jams, fools and crumbles, particularly when accompanied with ginger and a fair amount of sugar.

1. Remove any remaining leaf on the rhubarb plus any brown areas around the 'hoof ' of the stem (although the white part is fine, and indeed relatively sweet). Rinse and dice into 1cm pieces. Chop the crystallised ginger up quite finely. Mix together the flour, bicarbonate of soda and ginger powder. Add the chopped rhubarb and ginger to this and stir.

2. Melt the butter in a saucepan with the sugar and treacle (or molasses). Cool slightly. Blend the milk and eggs into the cooled mixture, which can then be incorporated into the flour etc. Mix well. Turn the mixture into a prepared loaf tin or flat cake tins (bear in mind a deeper cake will take longer to cook). Make the mixture in a loaf tin not more than about 5cm deep to ensure even cooking.

3. Bake for 30-60 minutes at 180C (350F, gas 4).
Recipe from www.riverford.co.uk.