The Art of Being in Maidstone
'The Art of Being' is the current art exhibition at Xross PolyNation Gallery in Starnes Court in Maidstone.
This gallery seeks to be a platform to display, explore identity, celebrate and protest as explored by artist and cultural practitioners both inside and outside of the creative circle.
Also important to the gallery's set up is to break the practice whereby the focus on black artist has tended to put emphasis on the ethnicity of the artist rather than the significance of their work.
Exhibiting Artists in Maidstone
This exhibition shows paintings by local Kent based artist Mike Fryer, Qing Qi from China and Giusi Tomasello form Italy plus 34 other in-house artists.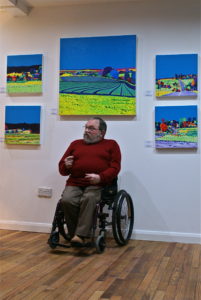 Mike Fryer has recently been exploring the fusion of landscape with abstraction to develop ways to express aspects of the world around us so his paintings challenge how we look at the landscape.  Qing Qi fuses and transforms traditional Chinese and contemporary Western aesthetics producing silk paintings, animal and figure paintings in oil and acrylics and images in pencil and acrylic from fantasy gaming.  Giusi Tomasello works in figurative painting, prints and collage as well as street art.
Moni Varma, the astute and successful businessman behind 'Veetee Rice', was a chief guest of honour at the exhibition opening – fantastically supportive of the gallery Mr. Varma is to be a patron of Xross PolyNation.
'The art of Being' runs at Xross PolyNation Gallery, Starnes Street, Maidstone from 22nd January until 18th March so if you haven't attended already go ahead and support this local initiative giving art a voice – you can also enjoy a great coffee in their cafe at the same time!