Wagamama's – is it as good as they say?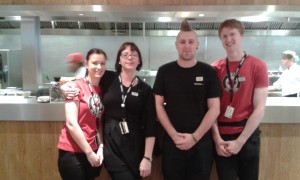 Review by Liz White.
One of the busiest places at lunchtime in Maidstone is Japanese cuisine restaurant 'Wagamama'.  The restaurant in Earl Street, Maidstone, simply buzzes with atmosphere. Lucy and I went along to try out the cuisine – and to see what was new for their winter menu.
Craig was our 'server' and as our group of 3 included a child, we are offered a highchair (one that clips onto the table – a great space saver), crayons and paper and our drinks order is swiftly taken.
We did have to wait over 10 minutes for our skinny cappuccino, babyccino and ask for a children's menu, but to be fair we had arrived at the height of the lunch time rush and we were treated to smiles, food advice and service that did impress.  Craig double checked my order did not contain mushrooms (they don't agree with me) and we are made to feel welcome and at ease.
The menu is well balanced with a good amount of vegetarian food and catered for those with all types of allergies too.  New on the food menu was beef doriburi, surendra's curry and warm tofu chilli salad and new drinks fresh in were blueberry spice juice and a clean green juice.
Three chefs were working hard in the open kitchen and I watched as order after order flooded in. I tried the prawn raisukaree  which is coconut and lime curry with mange tout, peppers, spring onions, ginger, lime, garlic and prawns served with rice and garnished with sesame seeds all washed down with one of their new recipes – a blueberry spiced juice.
The food came up promptly and looked amazing. Considering the rate of turnover, it is good to see attention to detail in
the presentation of the food.  The dish looked enticing and smelled divine.  I picked up the chop sticks and loved the taste combination of my chosen meal.  The food tasted fresh with a good ratio of prawns to vegetables and the rice helped disperse the heat of the chilli.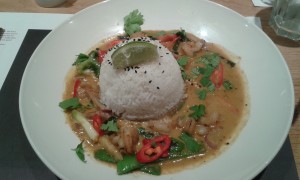 The portion was large and filled me up – a pudding was out of the question (although the large selection looked appealing).  I was happy to see a selection of cakes included in the dessert menu and I will return to sample them all!  Next time I may even treat myself to some of their plum wine (11.5%) and a taxi home!
It was a good lunch – from service through to food presentation and taste, so I will heartily recommend this flexible and well balanced restaurant to all – families, work colleagues, friends and singletons alike.