'Those That Can't' Actually Can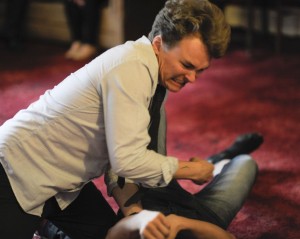 This is a production with a story to tell.  An independent show from Maidstone Productions, 'Those That Can't' showed how dreams can be crushed and impressionable, young personalities altered and shaped by the strangers we let into our lives without choice, just with blind trust – teachers. We saw how the lead character, Ben (Tomas Martinsen-Hickman) changed from an enthusiastic student into an angry, frustrated young man with no voice.
The piece concentrated on how education shaped the lives of 7 drama students and the various love triangles between them. Guiding them in their education are three teachers – two of which create an educational vacuum into which the students tumble unable to haul themselves out.
The scene is set at the beginning of the students second year of college education and frustration builds as the acting lessons they all long for fall short of the mark. Ben is the only voice of reason in the madness of a grade driven environment and within the show we see tempers flare and fists fly as the students rebel against their hapless teachers who are only interested in getting the grades up.
The students have the last laugh as the shoddy teaching is revealed but the message is strong and clear – this is just a needle in a haystack.  Bad teaching is everywhere affecting lives and hiding behind good grades.
The production itself ran well with smooth scene changes, lighting and staging and I enjoyed the little details that brought the production to life – teacher's pet Edmund (Matthew Swann) took to wearing the same tee shirts as his teacher, providing a comic twist and one of Ben's love interests Julia, (Michaela Bennetts-Higgins) wore a 'Mini Mouse' back pack which summed up her sweeter than sweet, childlike character.
The production was well written and the cast carried it off to fine effect but special mention has to be reserved for three of the characters that struck me.  I was impressed and felt a real stage presence when the character of Maxine (Claire Hughes) first walked on stage and she seemed to live her character, lead character Ben (Tomas Martinsen-Hickman) makes a fantastic angry man.  In the scene where he finally breaks up with Julia, I felt his anger boil over and couldn't help but really dislike him for his harsh treatment of Julia – what kind of man intimidates the sincere and naive Mini Mouse? His anger felt real.  Remind me not to give him a harsh review in future for it is evident there is a future acting career for Tomas.
Ben's sidekick, Will (Daniel Casper) provided constancy, good timing and an undercurrent of sharp wit with some wickedly delivered one liners and everyone can relate this character – he is the boy at school who really got under your skin and you loved to hate him. He pulled the production together.
The rest of the cast made the team cohesive. Department Head Regan (Anna Dane) reminded me of my ex-tap dance primary teacher who simply said 'shuffle stamp, stamp' over and over again in the hope that if we cracked that one simple movement we would validate her efforts. She played her character well with authority and manipulation in equal measures and the acting class teacher Tom (James Dammers) who's drippy character and wing it attitude struggled to gain any respect from the students delivered the performance that was needed – he managed to play a teacher but come across as a student which is exactly what his character was.
Ben's other love interest, Catherine (Faye Bennett) took to the stage naturally and hoity-toity teacher's pet Alex (Kathryn Mincer) strongly delivered her part. The psychiatrist (Dominic Zwemmer) looked the part and it was refreshing to see a psychiatrist telling it how it is as he put the teachers in their place.
I enjoyed the production.  With practice it has all the ingredients to make it great – especially timing and smooth delivery.  The fight scenes were technically well carried out and believable which is where so many productions can fall foul. A solid performance with a few gems sparkling through.  It was a shame the Exchange Studio was not more populated, however, I feel acting to a smaller audience is harder than acting to the masses and I loved how the message from the production came across and how the each student took a different journey to deal with the pressures of higher education.
Maidstone Productions is one to watch.  A local home grown talent we should be supporting.