Review: Narai Thai Palace – Week Street Maidstone
Narai Thai restaurant is an independent Thai restaurant located on Week Street in Maidstone. Last night I had dinner there.
I am a vegetarian and so thought it best to call ahead so I could make sure they could prepare a Thai meal that doesn't include fish sauce (I went to Thai Silk once and got given chicken in my vegetarian thai curry!) The manager assured me that he is also a vegetarian and that they will not include any fish sauce if requested.
When we arrived we had a great welcome. The manager remembered that I was the 'vegetarian'. The place was small, clean and friendly.
We were served by a very polite and friendly waitress.
Service
About 5 minutes after we ordered my husbands food arrived (Prawn Tempura. I ordered the vegetable tempura)
After about 10 minutes I was still waiting for my starter, so began to wonder if the order wasn't taken, so I asked how long it would be, I was a little disappointed with this as by the time my husband had finished I was still waiting for my starter.
The food
When my starter arrived it was amazing! Vegetable tempura with Sweet Chilli Dip and the plate was also loaded. I also loved the ornate carrot flower sculpture too.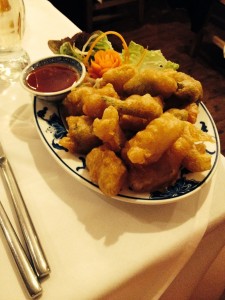 For my main course I had the Thai red vegetable curry and coconut rice. Again really tasty and beautifully presented. I'd give it a 9/10 – I would have given it a 10 but it just needed more chilli for me!
For dessert we shared coconut ice cream in a coconut shell and a Tia Maria Cream Coffee which was amazing!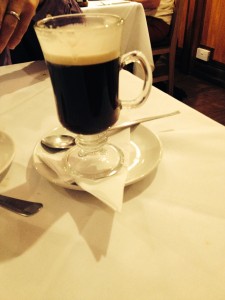 Overall I would go again! I think if I could afford it i'd go everyday! The atmosphere was friendly and relaxed, the service was a little slow (the waiter kept forgetting that we had asked for the bill! – We had to nudge him twice but we found this amusing rather than annoying!) the food was fantastic. The meal in total for 3 courses and a bottle of wine for 2 was just under £50, so really good value (the wine was £20).
You can also find out more about Narai Thai Palace on Trip Adviser
– Have you been here? Why not let me know what you thought of your meal in the discussion box below or start your own discussion in our forum: Maidstone Chatter. –
– Would you like to review a Maidstone location, shop, restaurant or produce for our website? or would you like your Maidstone location, shop, restaurant or product reviewed for our website get in touch: [email protected]